London to get fastest 'urban' zip line in the world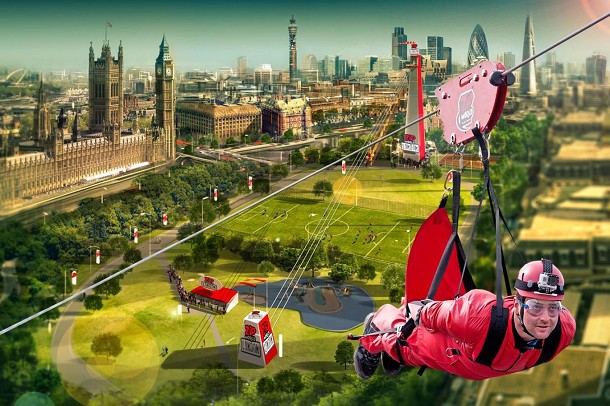 The city's newest attraction is aimed at thrill-seeking tourists who will be able to glide over London at speeds of 50mph.


London's newest zip line - Zip World London - will be the fastest of its kind to be set up in a major city, with the maximum speeds reached rivalling that of today's downhill race skiers. Intrepid visitors will jump off of a 35-metre tower at Archbishop's Park and will witness London's most iconic views as they glide down the 225-metre descent.


When describing the type of thrill tourists can expect at the zip line, its founder, Barry Shaverin, said: "I see it as a decent halfway house between a rollercoaster and a bungee jump. It'll be exciting but not terrifying. Giant zip lines and the greatest cityscape in the world — it seemed such an obvious idea to put the two together. And Archbishop's Park is one of London's best-kept secrets. We really want to help it get the attention it deserves."


Prior to jumping off the tower there is a comprehensive safety briefing, and at the end the attraction also includes a security measure whereby the riders are slowed on their approach to the finish line.


The longest zip wire in Britain - Zip World at Penrhyn Quarry in Wales - was used for inspiration to create its urban counterpart. Regarding its differences, Mr Shaverin said: "[Zip World Penrhyn] is great but it is a day trip, this you can do in your lunch hour."


"It's very difficult to replicate that childhood experience of doing something new every day. I hope people will come away thinking, 'Wow, I've never done that before.'"


Zip World London will be open from the 7th of July and will go on for 12 weeks, opening every day from 10am to 7pm. Tickets will range from £16.50 to £22.50.


Source: Evening Standard