Extreme Bounce Revolution reveal plans to build unique £2m air dome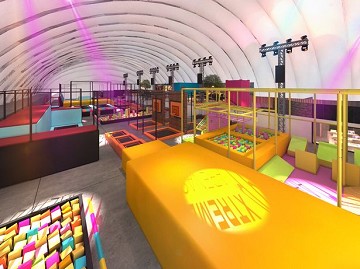 Extreme Bounce Revolution have just submitted a planning application to North East Lincolnshire Council to build a large £2m Total Wipeout-style family attraction in Lincolnshire. A large air dome structure will enclose the centre, which is said to be one of the first air supported domes to come to the UK.


This proposal comes following the success of a similar venture carried out in Derby, as well as the launch of another centre near Newcastle.


Extreme Bounce's operations director, Paul Johnson, said: "As far as a seaside resort is concerned it's a premier site. It comes with a great footfall and the space that we have got is fantastic".


"It's effectively a big tent that is blown up with a compressor. Some football teams and tennis centres use them to practice and train in. But it looks amazing and is a great use of space."


"In Derby we have been really popular. We see Cleethorpes being a year-round attraction. Many people visit the area every weekend. Essentially it's great fun for all of the family."


Aside from the main play area, the development also includes a bar and cafe area intended to promote good food and a healthy lifestyle.


CDC Architecture are behind the development, which is designed to take only three and a half months to set up.


This development hopes to help the local economy by creating up to 80 new jobs and increasing tourism within the Cleethorpes area.


"We have used local suppliers and will try to add value back to the community here too," added Paul. "We are renowned for being a well-run company and we look to provide that sort of quality in Cleethorpes too."


If the proposal is approved by the council, Extreme Bounce Revolution hopes to be able to inaugurate the venue in time for the Christmas holidays.


Source: Lincolnshire Live