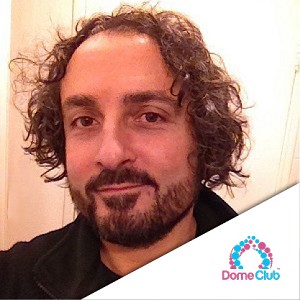 About Mario Di Maggio
Mario Di Maggio has 20 years experience with digital domes and planetariums, both fixed and mobile. He launched and for eight years managed the UK`s first purpose-built digital planetarium (Thinktank Science Museum, Birmingham, 2005), as well as launched and for three years managed the UK`s most expensive planetarium (Glasgow Science Centre, 2001).

Mario has also worked as a consultant for the Macao Planetarium (China, 2004-2008) and the Peter Harrison Planetarium (London, 2005). He is now director and owner of Dome Club Ltd, also trading as the educational outreach company Immersive Theatres (www.immersive-theatres.com).
Experience the thrill of real-world immersion without restrictive headsets in a geodesic digital dome.

Fulldome (360°) video environments allow large audiences to experience virtual worlds without the need for VR headsets, fostering eye-to-eye human connections while delivering powerful multi-sensory immersive experiences. The solitary, awkward, VR headset is unlikely to become mainstream and even less likely to remain so. In contrast, shared immersive environments are natural, comfortable and growing in popularity.

"Some day in the not too distant future you''ll be able to go to a movie and the movie will be all around you. The movie will be over your head, it will be 360 degrees around you" - Steven Spielberg, TIME Magazine, 2006

Steel frame outdoor geodesic domes can serve both as stylish event spaces AND immersive digital environments for entertainment and education.

"A dome is such a great shape to project a movie on. I think one day people will have domes in their homes. They're magical" – David Lynch, The Art Newspaper, 2008