VisitEngland reveal their Annual Attractions Survey results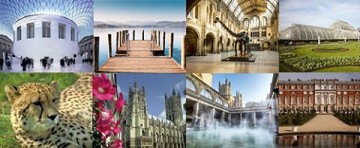 Zoos and gardens lead the way as the visitor attractions experiencing the steepest growth this past year.


Over 1,500 English attractions took part in this survey, which found that these types of outdoor attractions upstaged the rest with a growth of 8% compared to last year. Castles and historic houses were close behind with an increase of 7%, followed by country parks which managed to increase by 4%.


These results go hand in hand with VisitEngland's Great Britain Tourism Survey, which reported that rural attractions had increased visitor numbers by 5%, and coastal attractions by 4%.


Tourism Minister John Glen said: "We have an amazing range of world-class attractions in England that draw in millions of visitors every year."


"Whether it is our unique historic buildings, internationally important museums or stunning gardens, there is a huge amount to see and do."


"Ensuring that all parts of the country benefit from our tourism industry is a key government priority so it is fantastic to see such growth across the regions."


VisitEngland Chief Executive Sally Balcombe said: "There are so many outstanding attractions offering year-round experiences throughout the country and it's great to see Brits enjoyed 2016's 'Year of the English Garden'. Attractions are a much loved and valuable part of the tourism landscape, adding colour and variety to the visitor experience and encouraging people to get out and explore, driving the value of tourism across the regions."


The British Museum led the way as the most visited attraction within the 'free attractions' category, attracting an impressive 6.4 million visitors. The National Gallery was a close second within this category, welcoming over 6.2 million people.


When looking at paid attractions it was the Tower of London that which topped the list, with a total of 2.7 million visitors attending. It was closely followed by Chester Zoo with 1.9 million visitors, an impressive leap in the ranking from previous years.


Source: Visit Britain