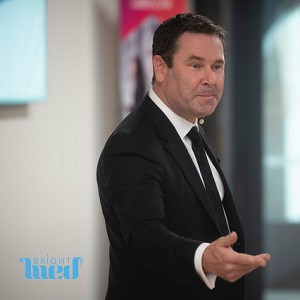 About Graham David
Graham David is the founder of Blue Beetle (Talent and People Development) a professional training and coaching company created in 1996.

He's since become an award-winning speaker, presenter, trainer, actor and author who challenges his audiences to look deeper, think smarter and create better as a result.

Blue Beetle achieved the CIPD award for Best Training Supplier in October 2014 for its' Leadership courses and was a Finalist at the same event in 2016.

Whether it's leadership in management, HR skills, presentation and communications or customer service and sales, Graham has considerable experience in delivering events across many sectors from transport to travel, in both the public and private sector.

Graham has spoken throughout the UK, in many European countries, throughout the United States and further afield. He has recently spoken at a TEDx event and at the Brightmed event in Gibraltar.
Staff engagement must be a priority if we wish to offer a higher quality Customer Experience.

This interactive session will look at practical and pragmatic strategies to better engage with our teams. Using a blend of case study and easily implemented tools and tips you will discover the importance of showing genuine appreciation, powerful ways to handle poor performance and how to create a Customer Experience programme that really delivers.