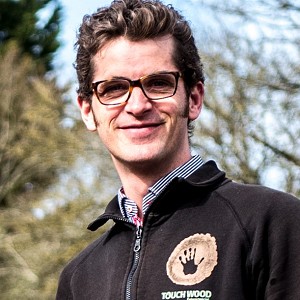 About Joe Cooper
Joe used his training as a craftsman and his passion for play to set up TouchWood sixteen years ago, as a means of delivering quality, hand-built play equipment that reinforces the local woodland economy and keeps traditional woodcarving skills alive. Joe's passion for seeing places and spaces brought to life in partnership with their communities and his commitment to creating positive valuable outcomes for both play and learning, have led to TouchWood collaborating with numerous key partners over the years, such as the National Trust and the Forestry Commission, to deliver exciting, innovative projects throughout the UK – including NT Tyntesfield, NT White Cliffs and the Forestry Commission's Moors Valley Country Park.


TouchWood Play, the designers and installers of award winning William's Den, believed to be the UK's largest-ever bespoke indoor timber play experience, are currently designing the play experience for Bluestone National Park Resort.
During his presentation, Joe Cooper will explore the premise of "Biophilia" - that humans are "attracted to all that is alive and vital". Using case studies, he will demonstrate how vital spaces can be designed into a range of commercial settings and in turn, the role that nature play has in the creation of positive memories.

Yes, there will be some theory, but don't worry, there will be lots of top tips to take away with you.