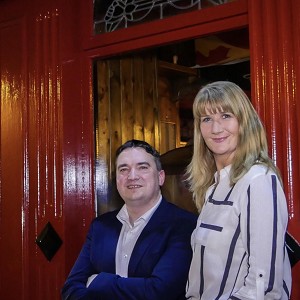 Caroline Dunlea & David Brett
Core Optimisation – Digital Marketing Agency What you need to know to push your Digital Agency to deliver better results for your Destination Hotel!
About Caroline Dunlea & David Brett
Caroline Dunlea and David Brett have a combined 25 years experience working with hotels and growing their online revenue. Their understanding of the Hospitality Industry along with their straight-talking approach to digital marketing and online revenue has seen the company portfolio grow in the UK and Irish Market over the past 3 years.

They are proud to be digital growth partners working alongside clients such as Laura Ashley Hotels, Corus Hotel Group, The Arch London, St. James Mayfair, Seckford Hall Hotel, Mayflower Group, The K Club, Mount Juliet Estate, Cliff House Hotel, Kilronan Castle & Fitzpatrick's Castle to name a few. Having worked in the technology sector for many years their knowledge of digital reaches far beyond how to drive traffic but also the importance of choosing the right technology provider for each business area.
Developing a clear and specific digital strategy for all your business segments including rooms, weddings, spa and Golf requires effective collaboration between Hotel and Agency. Understand today's challenges with destination hotels and how marketing the right message about the right product to the right audience can increase your Revenue and your ROI.

It is not all about traffic, a greater understanding of who your customers are and how they interact with you through your website are as important.

This seminar will give you clear actions that you can takeaway and work with your agency on to ensure they are delivering the greatest opportunity of conversion across your key business areas and insight into the questions you as a business owner need to ask your agency.