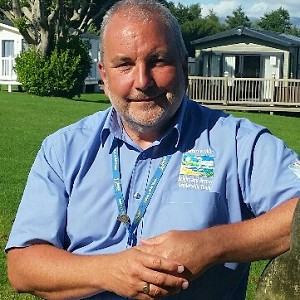 About Andrew Baker
Andrew Baker is the General Manager at Havens Hafan y Mor Holiday Park in North Wales. He was propelled into the industry in 1986, following redundancy from Sealink in Weymouth.

Having worked on every coast in the UK, he became a General Manager for the first time in 1990 at the age of 23.

Andrew arrived in Pwllheli in 1998, expecting a short assignment; but, he was beguiled by the area, and has been a champion of the holiday industry in North Wales ever since.

Representing Bourne Leisure, Andrew has been a Director of the North Wales Tourism Partnership, along with his fellow Directors, he was responsible for the Tourism strategy for North Wales, involved in presenting this to the Welsh Heritage Minister, public and private stakeholders. This strategy focused on giving the best possible experience to visitors while providing them with quality accommodation, mirroring many of Bourne Leisures core values.

The Butlins Pwllheli site had a long history, and was of cultural, historical and economic importance to the local area. For most of the last 19 years Andrew has project managed the transformation of Butlins Starcoast World into the beautiful report of Hafan y Môr. Andrew has helped to steer the redevelopment of the 500 acre site, transforming it, and adapting it to the needs of the modern staycation holiday maker and caravan owner. Now one of the most successful operations within the Bourne group, Hafan now has huge future growth potential.

A native of Weymouth in Dorset, a family man, Andrew is a keen swimmer, diver and cyclist, recently taking part in his first triathlon.
Since it's acquisition in 2000, Haven's parent company Bourne Leisure have invested over £35 Million updating the accommodation, facilities, enhancing the environment and landscaping at the Hafan y Mor site. Bourne launched its exciting 2020 vision for the park early in 2009, this concept was to bring together improved facilities, carefully considered caravan and lodge developments and enhanced natural space, to create matchless experience for current and future generations of Holiday Makers and Owners. The aim is to create a prestigious higher 5–Star standard, environmentally conscious, holiday destination.

The seminar will be based around how we are progressing towards our 2020 vision, and discuss the key areas of success from the developments carried out over the last few years. These developments include things such as landscaping, the layout and feel of pitch communities and providing plenty of open space. I will also discuss how we are developing facilities in line with increasing guest expectations and how we are future proofing developments for when guests want to upgrade to larger units.