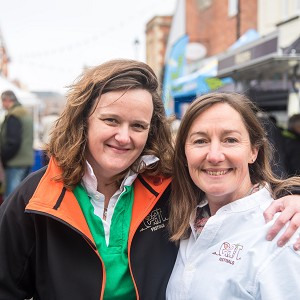 Bev & Sarah Milner Simonds
eat:festivals Why town centre events are good for business, regeneration and PR
About Bev & Sarah Milner Simonds
Bev and Sarah have built eat:Festivals to meet the needs of food and drink producers and communities who have lost their connection with the land. Nationally multi-award winning and driven to deliver a great return on investment for their producers, partners and 6 host towns.

They curate up to 140 local producers who are showcased in the town centre with demo stage, talks, cook school and entertainment. The focus is on presenting high quality producers and promoting the town (and it's businesses) to an interested visitor profile that may have fallen out of love with their town centre. They regularly attract in excess of 20,000 to their one-day festivals, have a net promoter score of over 90% from their producers and a great reputation as top-class partners.

Their festivals always free to attend and are funded from a combination of sponsors and pitch fees.
Why do some town centre events fail? The dynamic duo behind the 12 times award winning eat:Festivals will share why their formula means the town, it's business, the producers and visitors all hit their goals. The pair specialise in food and drink festivals, but their story and learning can be applied to other events that are proposed to regenerate your town centre.