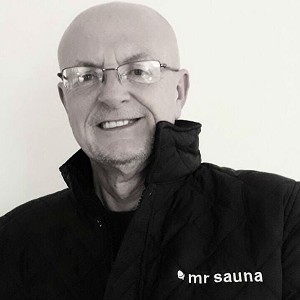 About Gerard McCarthy
Gerard McCarthy has been involved in the leisure business for over thirty years and has seen the industry grow and develop beyond recognition.

Gerard has run his own businesses successfully, and also worked with many of the leading suppliers in the sector, giving him an unparalleled knowledge of how the industry has changed over years.

This experience across all areas of Public and Private Sector Fitness, Hotel, and Spa operation has given Gerard an insight into what the successful operator needs to consider when deciding if a leisure offering is right for them, and also the what the modern visitor to these facilities is looking for.

Gerard runs his own company mr sauna Ltd and will be assisting manufacturers Anapos on their stand at this exhibition.
Saunas and steam rooms have played a role in leisure facilities for many years, but no longer should you expect a simple pine "box" or "plastic" steam room when you visit a leisure facility.

Over the past ten/twelve years the market has changed substantially and visitors to these facilities, and indeed the facilities themselves have changed beyond recognition.

The development of hotel spa facilities (one must say predominantly from the private sector) has raised expectations from users, as has holidays in countries with a greater knowledge and experience of spa offerings than our own, and also from visiting UK based operators such as Center Parcs.

"Wellness" is now the buzz word, and many operators are finding that the "spa" is no longer just another tick box on the marketing "must have" list, but actually has a real role to play in delivering more visitors and extra revenue.

The market has developed even further recently, where visitors to leisure/spa facilities are looking for tangible health benefits from their experiences, and in this talk we will take a look at what that means and how it can be delivered.