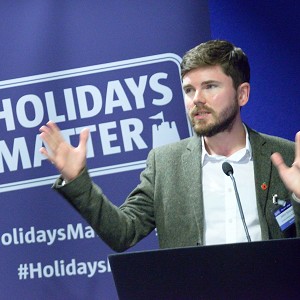 About John Kinnear
John has been the Programme Manager at the Family Holiday Association for 3 years and in that time has been amazed at the impact that simple breaks can have for struggling families.

He brings his 15 years of charity experience at organisations like BBC Children in Need and the Big Lottery Fund in working with a wide range of tourist industry partners and universities to help research and evidence the difference that breaks can make.
Almost 5 million children missed out on a break last year. Come and find out how holidays make a difference for families who never get the chance and how we're helping more families experience something that we (and I'm sure you!) think is a necessity.

Using our 40 years of experience as the leading national charity dedicated to helping families get a break, the Family Holiday Association is about to launch a new web-based solution to match spare and donated breaks and days out to families in need.

Thousands of professionals like teachers and health visitors refer families to us and we match them with a break that will work best for them. Our new platform will enable us to work with many more businesses who care about making a difference.

Find out how you can get involved and help create memories to last a lifetime.