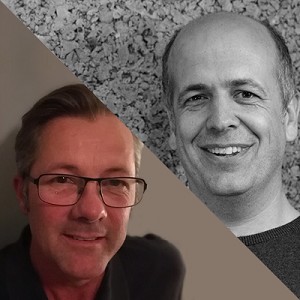 Nick Stickland (ZSTa) & Lee Fisher Jones (3D Media Solutions)
ZST architects and 3D Media Solutions Design in the heart of the project
About Nick Stickland (ZSTa) & Lee Fisher Jones (3D Media Solutions)
Nick is an Architect with over 20 years professional experience. He has been responsible for creative conceptual design and the delivery of holiday villages including rural diversification, super prime London residences, luxury ski apartments, mixed use leisure-retail centres and community projects.

Nick is a highly experienced practitioner who has played a key role in nurturing the growth of practices up to 100 employees. His experience includes expert witness work and contract administration on projects over £30M in contract value. Nick is a founder member of Brighton based architectural and interior design practice ZST architects.

Notable Leisure and Tourism Projects
The ongoing development of luxury ski apartments and lodges in Switzerland. Various locations.
Concept designer for Oasis Holiday Villages, now subsumed within the Centre Parcs brand.
Brand interior designer for specialist club facilities in various hotels globally.
The complete regeneration of the Savoy Holiday Village, Isle of Wight. Now branded 'The West Bay Club'. 93 new units created, 47 units refurbished and a new country club with spa facility.
Oaksey Park, Cotswolds for 37 sustainable holiday homes. One of the first commercial developments to achieve Eco homes 'Excellent'.
Burnbake Lodges, Dorset for 22 sustainable holiday lodges and amenities, nestled within a sensitive site for nature conservation.
Concept designer to Conkers Visitor's Attraction in the heart of the National Forest.
All too often development projects are founded on the spark of a strong business idea but fail to present a strong design narrative, as a common thread which positively conveys the idea or the brand. This can result in a loss of stakeholder confidence, watering down of the concept and an eventual negative brand experience for the end user.

Drawing upon his strong sector experience in hospitality and leisure developments, architect Nick Stickland talks about the ability of design to enhance project outcomes. He will advocate the need for a strong, well communicated, design process to help build investor confidence, communicate client and investor values and help build a strong planning narrative resulting in more successful outcomes. Further, the marketing of projects can be more easily defined and communicated and the engagement of customers can begin sooner in the process.

Lee from 3D Media solutions will compliment Nicks holistic vision by showcasing the end results effectively via state of the art 3D visual solutions.