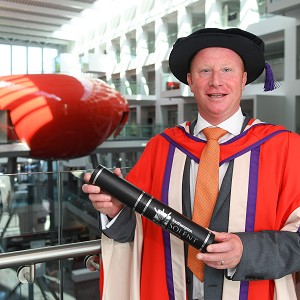 About Paul Griffiths
'Paul Griffiths has worked in the Heritage and Tourism industry for over 20 years and Paul is now the Head of Operations at the Mary Rose and Managing Director of Mary Rose Trading, he has been at the Mary Rose in these roles since 2012.

Before this Paul worked for English Heritage in various visitor, commercial and conservation focused roles before in 2005 becoming the Area Manager for London Historic Properties. Paul chairs the regional Hampshire – Solent Museum Development Panel

Paul guest lectures in Contemporary Tourism at Southampton Solent University and in July 2018 was awarded an Honorary Doctorate in Business for services to Tourism, Heritage and Conservation.
Paul will take you through how visitors can explore the multi award winning Mary Rose, King Henry VIII's flagship – sunk during the 'Battle of Solent' in 1545 and then raised from the seabed after nearly 500 years lost at sea. Immerse yourself in life on board by coming face to face with the crew, surrounded by genuine artefacts, and all brought to life through cutting edge technology. 500 years, a heartbeat away